Using a PackageBee Notification Channel, you can configure custom Alert Policies to send notifications if certain conditions are violated. For example, you can configure the channel to send email notifications if there is an error processing an order.
Add a new Notification Channel
In the upper-right of your PackageBee Dashboard, click your Account Name > Account Settings.

Click the Alert Settings tab, and click Notification Channels. Then click +Add Notification Channel.

Give your Notification Channel a descriptive Name, and select the platform of delivery (Email is the default).
Specify the Email addresses to which the notifications should be delivered.
Specify a notification frequency with a number and letter (m = minutes, h = hours, d = days). For example, 10m (every 10 minutes), 1h (once an hour), or 2d (once every two days).
Click Add notification channel.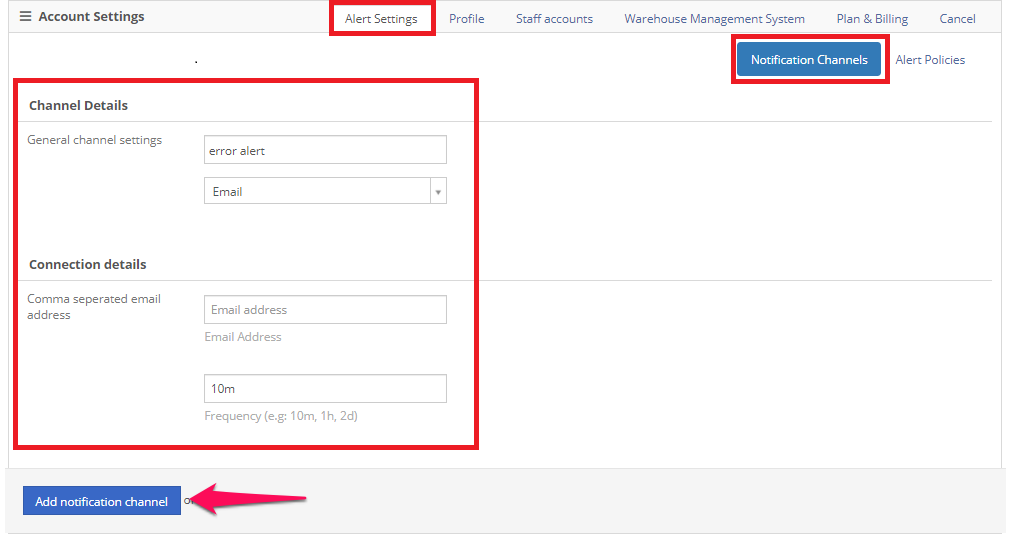 To edit these settings later, you can click Edit next to the name of the Notification Channel.

After configuring a Notification Channel, you can proceed to create and customize your Incident Alerts.