Follow these steps to upload Listing SKUs via Product Import Spreadsheet.
In the Skubana toolbar, click Products.
On the Products page, click Import/Export.
Click Import Listing SKUs.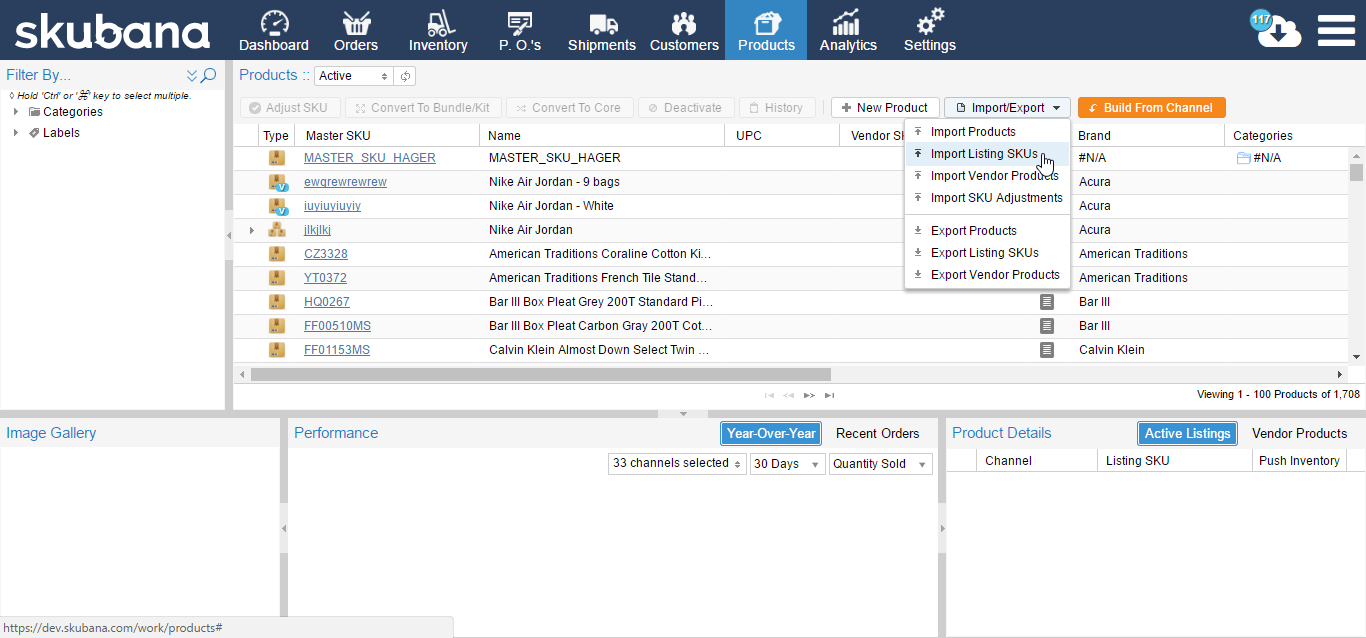 On the Listing SKU Import window, click Download the Excel Template for Listing SKU Import.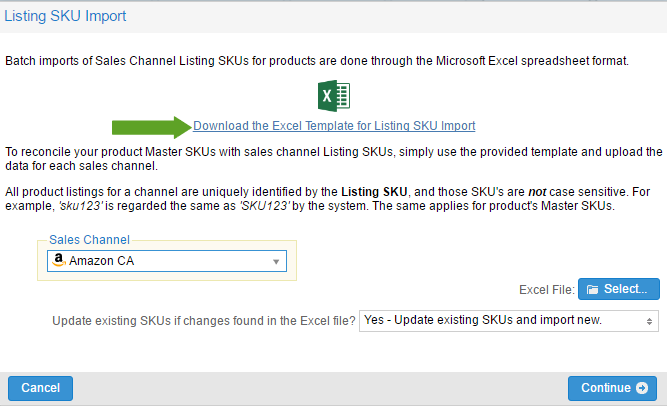 Note: Each sales channel (including your manual channels, if any) requires its own Listing SKU spreadsheet.
See the table below for help in entering information on the template.
Master SKU
Listing SKU
Push Inventory to Channel?
Active

The master SKU used to create the product

Listing SKU from your marketplace

TRUE: For all Listing SKUs, except Amazon FBA Listing SKUs.

FALSE: For all Amazon FBA Listing SKUs. It is not required to push inventory levels for FBA listings as the whole purpose is for Amazon to keep your inventory real-time.

TRUE: Active Listing SKUs

FALSE: No longer active Listing SKUs
Once you are done preparing the listing SKU spreadsheet, go back to the Listing SKU Import window, and select the sales channel to which you will add the listing SKUs.
Select the previously-filled Excel template from your computer, then indicate whether you want the file to update information on existing SKUs. If you are adding your listing SKUs for the channel for the first time, just leave the default setting as-is. Otherwise, indicate whether you want to update the listing SKUs or not.
Click Continue to start the upload process. Wait for the upload to finish, then check the Orders page to see if Skubana properly uploaded your listing SKUs.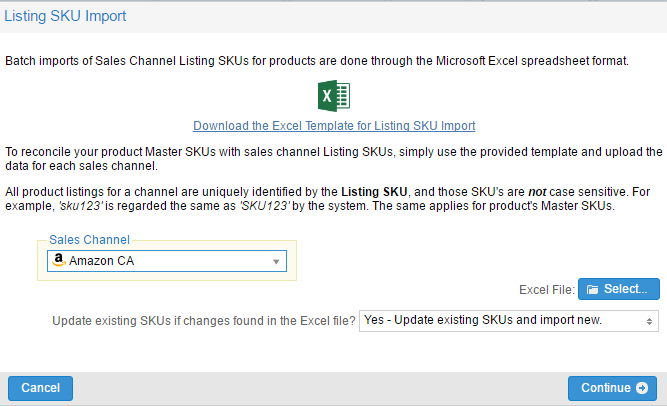 NOTE: Click the master SKU number to open the master SKU record, then click the Listing SKUs tab, to view the listing SKUs attached to the master SKU.
See the table below for guidance on how to pull your listing SKUs from your sales channels.
| | | |
| --- | --- | --- |
| Marketplace | Listing SKU | Steps to Pull Your Listing SKUs |
| Manual Sales Channel | Master SKU | Note: We strongly recommend that you set your Listing SKUs for manual sales channel(s) to be identical your Master SKUs. |
---
Back to: Integration Overview