The Application Programming Interface (API) allows for automated communication between connected systems. In order to automate fulfillment, API access must be enabled.
If you have not yet gathered your API credentials, follow these steps first:
Enter API credentials in DropStream
Required API Credentials
VeraCore Hostname
Merchant Username
Merchant Password
Advanced Shipping Options - Optional Fields
There are additional options available that are not required. The fields can be used to add additional order and/or shipping details to the information passed to VeraCore. Optional Fields include:
Carrier billing code selection (blank, Ordered By, Bill To, Ship To)
Account Number
Include Discount Code
VeraCore System ID
Owner ID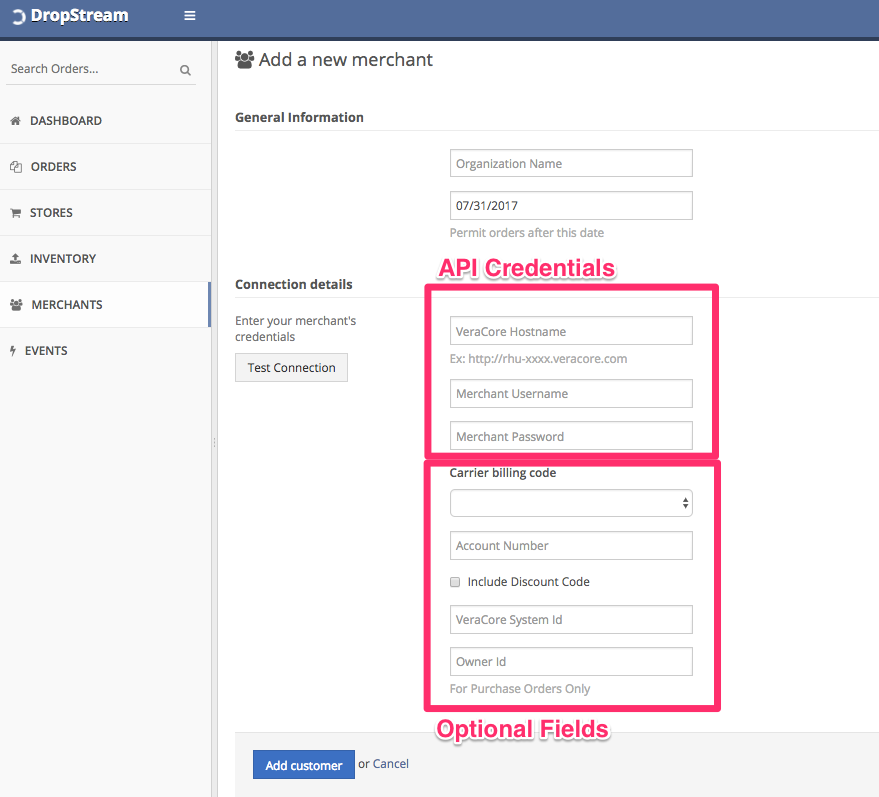 Carrier Billing Code: This will populate the xml tag 'ThirdPartyType' in VeraCore for all orders. If left blank, no information will be transmitted in the tag. If Ordered By is selected, "1" will be transmitted to VeraCore. Bill To will send "2". and Ship To will send "3". If a selection is made in the Carrier Billing Code, then an Account Number should be entered in the Account Number field.
Account Number: This third party account number will transmit to the 'ThirdPartyAccountNumber' xml tag in VeraCore for all orders. If you will have some orders that require a 3rd party account number but not all, contact the DropStream Support Team at support@getdropstream.com to help you set up a rule that will meet this need.
Include Discount Code: By checking the Include Discount Code, all orders transmitted to VeraCore will include the discount code id on orders.
VeraCore System ID and Owner ID: The VeraCore System ID and Owner ID pertain to Purchase Orders. If your clients will be using purchase orders with VeraCore, filling in the System ID and Owner ID will send these IDs with the 'SaveExpectedArrival' call to VeraCore for the advanced ship notice.