Stock Keeping Units (SKUs) are merchant-defined codes that uniquely identify products in a warehouse. It is critical that the SKUs defined in Solid Commerce exactly match the SKUs loaded into your warehouse management system.
Add or modify SKU
Follow these steps to create an SKU for a new product, or to modify the SKU of an existing product:
In the Solid Commerce admin panel, click Products > Products Manager.
Click Add New Product. Or, Search for an existing product to Edit it.
On the Add/Modify Product page, enter an SKU value.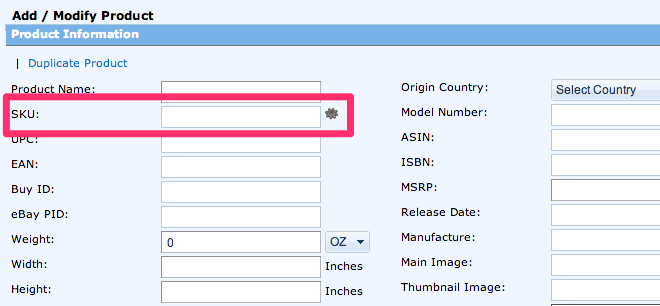 Assign product to warehouse
To enable inventory tracking for a product, the product must be assigned to a specific warehouse.
After modifying an SKU as described above, select the product.
Click Save and Add To Warehouse.
Select the desired warehouse.

Retain the Warehouse Name.
Next: Gather API Credentials