Note: These instructions have been updated as of December 2022.
The Application Programming Interface (API) allows for automated communication between connected systems. In order to automate fulfillment, API access must be enabled.
Enter API credentials in PackageBee
In your PackageBee Dashboard, click Stores.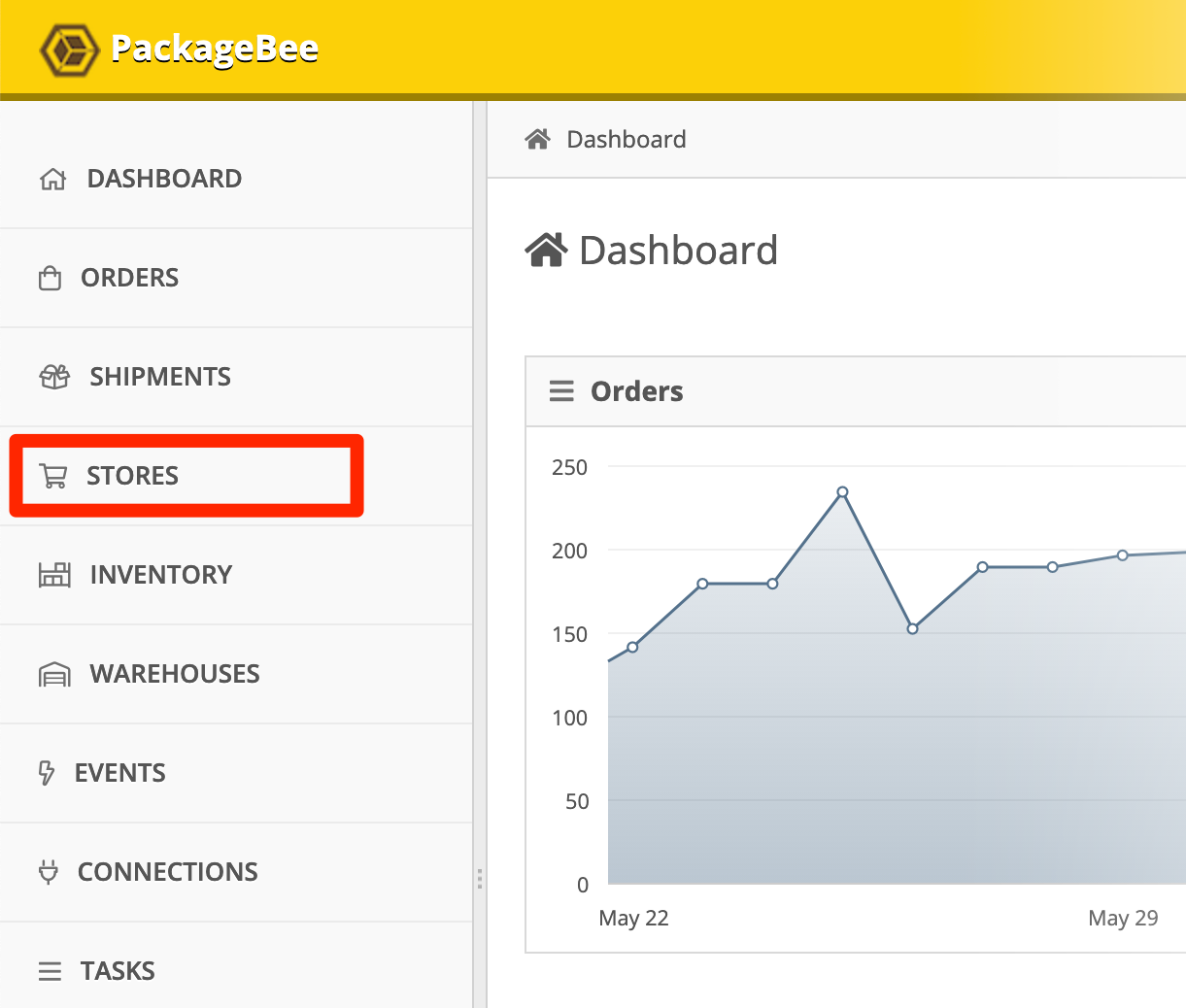 Click the name of your Shopify store.
In Connection details, enter your Shopify Shop name (which precedes .myshopify.com in the default Shopify URL).

Then, enter your Access Token (the Admin API Token you generated when setting up the PackageBee app in Shopify).

Press Tab. Then, select the Fulfillment Location for this store from the list.

Note: When DropStream exports shipments, Shopify checks that inventory for the item/SKU is in stock at this specified location; if not, order processing will fail.
Optional: Edit any of the following settings:
Return Magic API Key — Required if using Return Magic for returns flow
Fulfillment Service - Your fulfillment provider, as configured and activated in Shopify. During Order Import, PackageBee imports only line items/SKUs that have been designated for this Fulfillment Service in Shopify. If the order contains SKUs not designated in Shopify for the specified fulfillment service, those SKUs are not imported to PackageBee.
Filter orders by location — If enabled, accept only orders assigned to the Fulfillment Location
Exclude empty orders — If enabled, exclude orders with no line items
Use local currency — If enabled, represent monetary values in the buyer's local currency
Notify customer — If enabled, Shopify will notify the customer after the order has shipped. (default: enabled)
Include Duplicate SKUs — By default, PackageBee will not attempt to update inventory for more than one match for a given SKU. To update inventory for all products with the same SKU, check this box.
Include Partial Fulfillments — If an order contains a gift card or another virtual product, the fulfillment status is Partial. By default, PackageBee imports orders with fulfillment status Not Fulfilled. If this option is enabled, orders with Partial fulfillment status are also imported.
Financial Status Import Options — The financial status for order import. Select one or more of the following:
Paid (default)
Pending
Authorized
Partially Paid
Partially Refunded
Refunded
Voided
Accept orders after — Lookback date. Only orders after this date and time will be imported. (Maximum lookback is 60 days)
Click Save changes.

---
Next: Order Import Status